Save Your Back While Golfing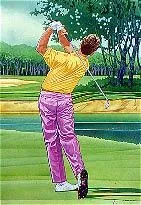 As America's love affair with the game continues to grow, the American Chiropractic Association (ACA) has advice on how to take a proactive approach that will prepare your body for many years of pain-free play.

These simple measures will help you avoid back pain or injury and improve your game:

Use equipment that fits you. If you use clubs which are too short, back trouble is sure to follow. And, vice versa. Many women use their husband's clubs, which are usually too long for them, and not flexible enough to accommodate the woman's normally lighter grip.

As in all exercises, it is very important to engage in stretching exercises before beginning. If you have arthritis in your hand, use clubs with specialized grips to prevent injury, and improve your game. Take lessons. Learning proper swing technique is critical. At the end of the swing, you want to be standing up straight; the back should not be twisted.

Wear orthotic shoes, which support the arch and absorb shock. It will also increase the coordination between the swing and your legs. Don't wear shoes with metal spikes; the shock to your legs while walking can cause stress in the back. Use soft spikes for greater motion.